EMC are a specialist manufacturer of wide belt sanding machines. Based in Imola near the racing circuit, the place where Ayrton Senna met his demise in 1994 at the San Marino Grand Prix. They supply calibrating, veneer finishing, denibbing sanding and polishing machines. I was introduced to EMC managing director Ivano Coveri 5 years ago. He explained that they were founded in 1999 and quickly outgrew the original factory in 2006. All the directors had their roots in sanding from other companies with many years of experience.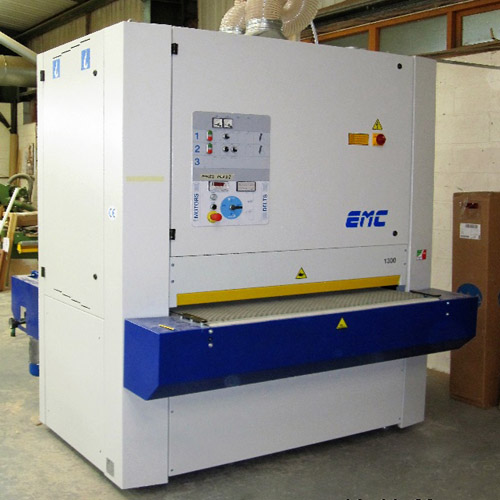 "Sanding is an Art which comes from the Heart" and EMC certainly have a big heart."
Whether you are a company that is about to buy your first sanding machine or an experienced sanding user looking at top and bottom systems EMC innovation will not only supply a machine but blow your mind with the quality of sander and finish. The new Woody shown at Woodmex for the first time last year or the patented Revo Superfinishing sander EMC offer a complete range of sanding solutions. Whether you sand wood, metal, Lacquer, Corian or "High Gloss" paints EMC have a solution for you.
Take it from me, this company will become a major player within the UK Timber and Panel Industry If they're not that already. The new Revo Superfinishing sander works like no other machine and took the world by storm. All the industry descended on the stand at Ligna 2015 to glimpse this new design. Why did we not think of this first I heard the large manufacturers say!
So if you're looking for a sanding machine from a specialist company that offers value for money, high quality ideas and finish, come and talk to me and I'll show you a specialist company you will fall in love with!
If you require any further details, please connect on 07836 704691!